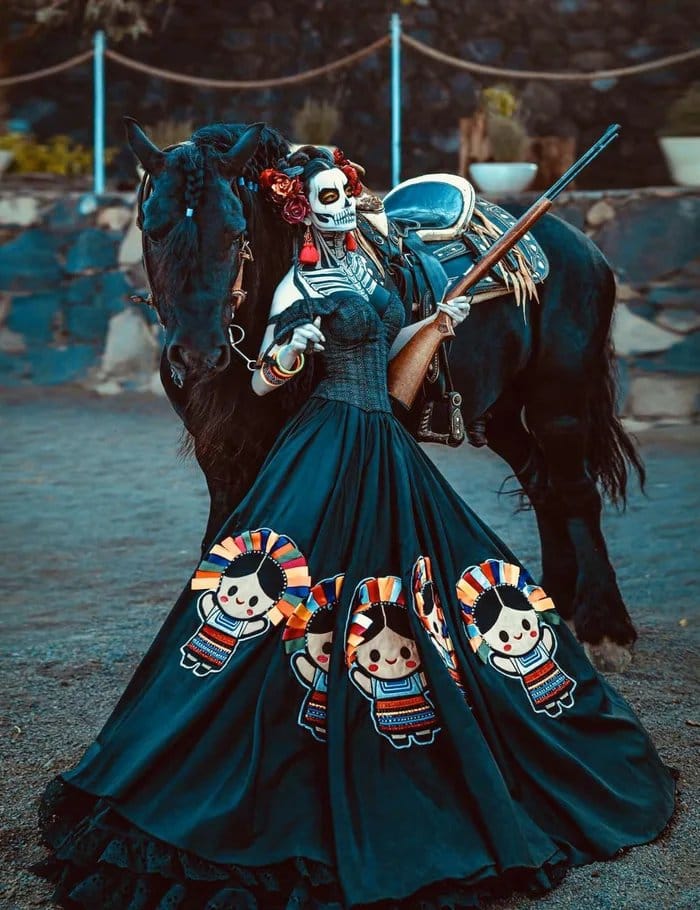 reddit/georgina villanueva dressed as la santa muerte
Većina ljudi misli da živi život. Većina je roblje sistema, društvenih normi, porodice, škola - ne žive. Oni su "mrtvi" još nego li umru. Život je kratka forma koja se pojavi i nestane. Kroz tu formu pokušavamo ignorisati ono najbitnije a to je da smo živi. Medjutim, i to nije dovoljno. Ljudi premalo daju značaja spoznaji da ih neće biti nekad u budućnosti. Logično, smisleno, da tako je. Zapravo vaša najveća motivacija bi trebalo da bude to da smrt dolazi a ne da ste živi pa eto dajte da se živi. Kako će neko živjeti život - mi to ne znamo ali bi motivacija svako života morala da bude smrt. Nije smrt ni lijepa ni ružna - samo postoji. Baš kao i život. I taj balans izmedju života i smrti trebalo bi da bude život koji je ispunjen i prihvatanjem da smrt dolazi po nas. Premalo živimo a previše analiziramo, borimo se za nešto - i tako iz dana u dan. Zgužvani u sopstvenom momentu refleksivno se trgamo da nešto uradimo da prikažemo naše postojanje. I to je jedna laž. Treba samo da živimo a da sve naše motivacije kreću da nas sutra neće biti. I to nije izlizana fraza da se živi kao da ćemo sutra umrijeti. Jer hocemo. Treba da živimo zbog onih koji nisu tu. Treba da živimo zbog onih koji jesu tu. Al ne treba da budemo robovi života ili straha od smrti. Ne treba da branimo ljude, politike, ideologije, religije, zastavu, novac, moć, sistem, državu - nepotrebno prolazi život dok u grču branimo sve to. Živimo kao robvi svega toga. Ne živimo već robujemo. Treba pronaći makar jedno saznanje koje će vas radovati kad ne budete tu. Nije bitno kada umrete bitno je sada. Jer život je SADA.
Želim da pogledate jednu od najboljih scena u filmskoj industriji.
Želim da se zamislite nad sopstvenim sudbinama, promašenim životima i da se upitate "da li živite BAŠ onako kako bi trebalo baš svaki dan?".
tekst posvećen svima onima koji nisu više tu sa nama. nedostajete.